Butterfish Poke on Friant
Branding & Interior Image
3D/2D Renderings & Video Animation
Space Planning, Elevations & Layouts
Color Palette Development
Finish Material Selection & Placement
Furniture Selection & Specification
Interior Architectural Detailing
Interior Casework Design
Lighting Design & Selection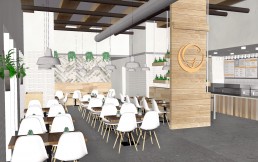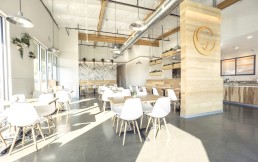 Design conveying the fresh, healthy fare patrons will experience in this modern eatery.
Our goal was to maximize the benefit of a corner location with large spans of window glass and facilitate a comfortable dining experience in a natural bright atmosphere. We designed a signature divider wall detailed to separate the busy food service line from the seating area.
Renderings bring concepts to life. 
Color and materials, scale and proportion, placement and flow come to life before construction begins in renderings, envisioning what the materials will look like in proposed locations within the space.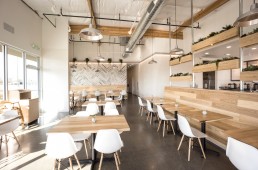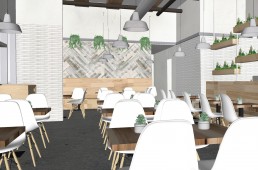 Visualizing The Space Prior To Construction
3D visualization shows how design elements combine to create a cohesive presentation. This enables adjustments, should they be necessary, resulting in a cost saving benefit.
This tool conveys complex detailing to sales, construction and marketing teams. Clarification of this nature saves time and potential misinterpretation of key features.