Design has been my occupation and "preoccupation" all of my adult life. So when it came time to redesign our master bath I visualized what I would enjoy most in the new space. There are many ways to build the perfect bathroom and I will admit that I discarded a few along the road to my final version. Paramount was the reduction of clutter. It's practical to have electrical outlets but not so pretty to see them. I found 7" deep upper cabinets by Robern from build.com that included outlets to power all of the gadgets that need to dock there out of sight behind the mirror and at a convenient height above the counter. Glass shelves, night lights and 4 outlets each were discreetly hidden within three storage units that were (in this case) recessed into the wall. Thus was provided a nice spot for the hair dryer and phone charger right where they were wanted.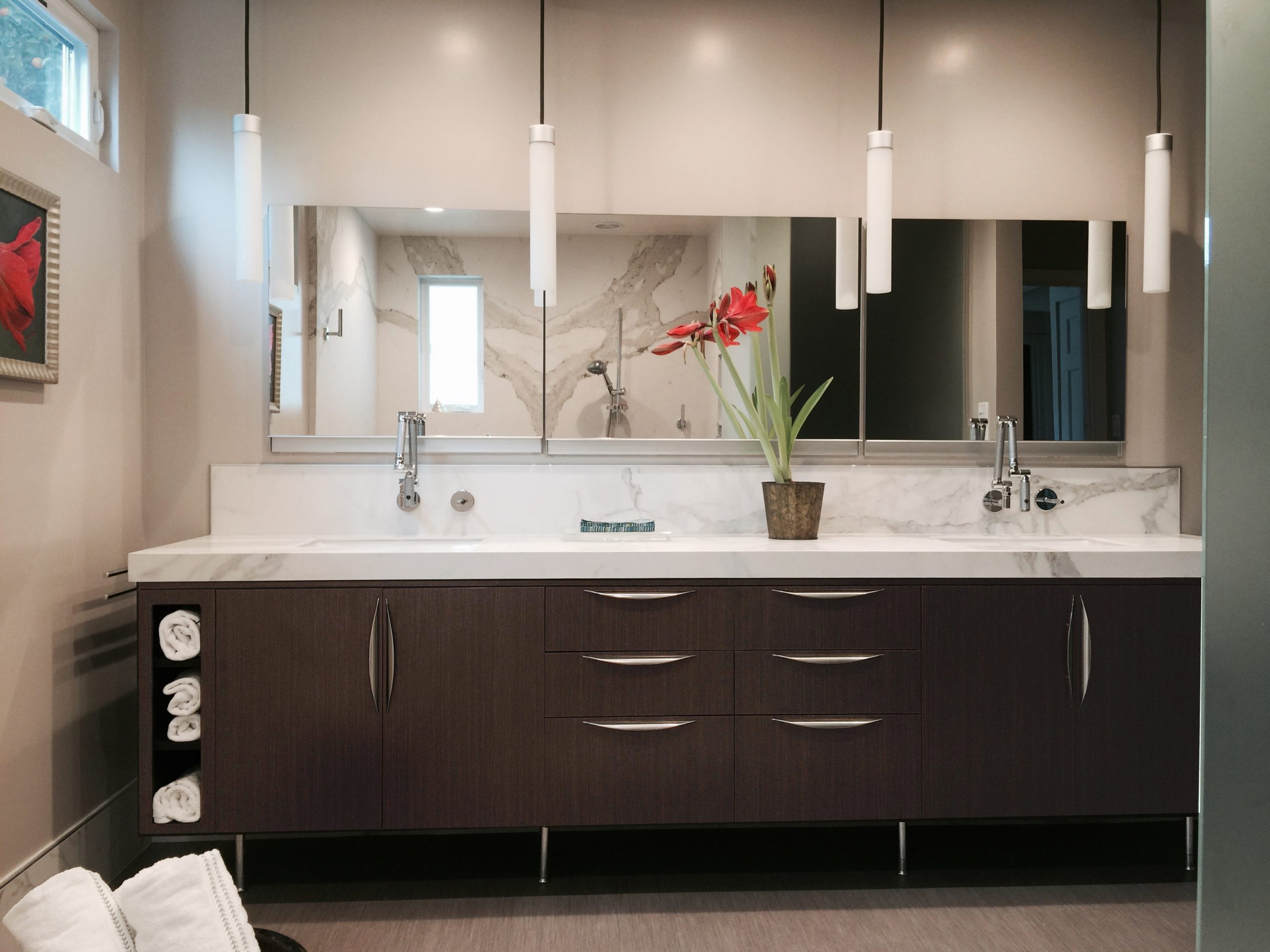 I designed this base cabinet to float visually on tapered steel legs reminiscent of furniture from the 50's. Central Valley Casework made custom drawers with quiet closures and wood interiors for my dream vanity: storage both shallow and deep to keep organization within easy reach. Faucets are Kohler Karbon with articulating joints. Stem fixtures are Robern fluorescent tubular vanity lights.
Lighting averages about 30% of the power bill so why not take advantage of the superior economy of LED and fluorescent sources? LED spot lights are now reliable and dimmable for an instant change of atmosphere. This was a "must have" in my budget!
Existing structure was fixed and would not allow expansion of the total space or the ceiling height. The tub, shower and separate toilet compartment had to fit within the overall footprint. A custom frosted glass "barn door" allowed these three basic components to be re-located side-by-side and share one rolling door. The floor was made level but with slope to the shower drain eliminating the need for a raised dam at the edge. Dal Tile limestone in 1x 1 squares shower floor with Stonepeak threshold.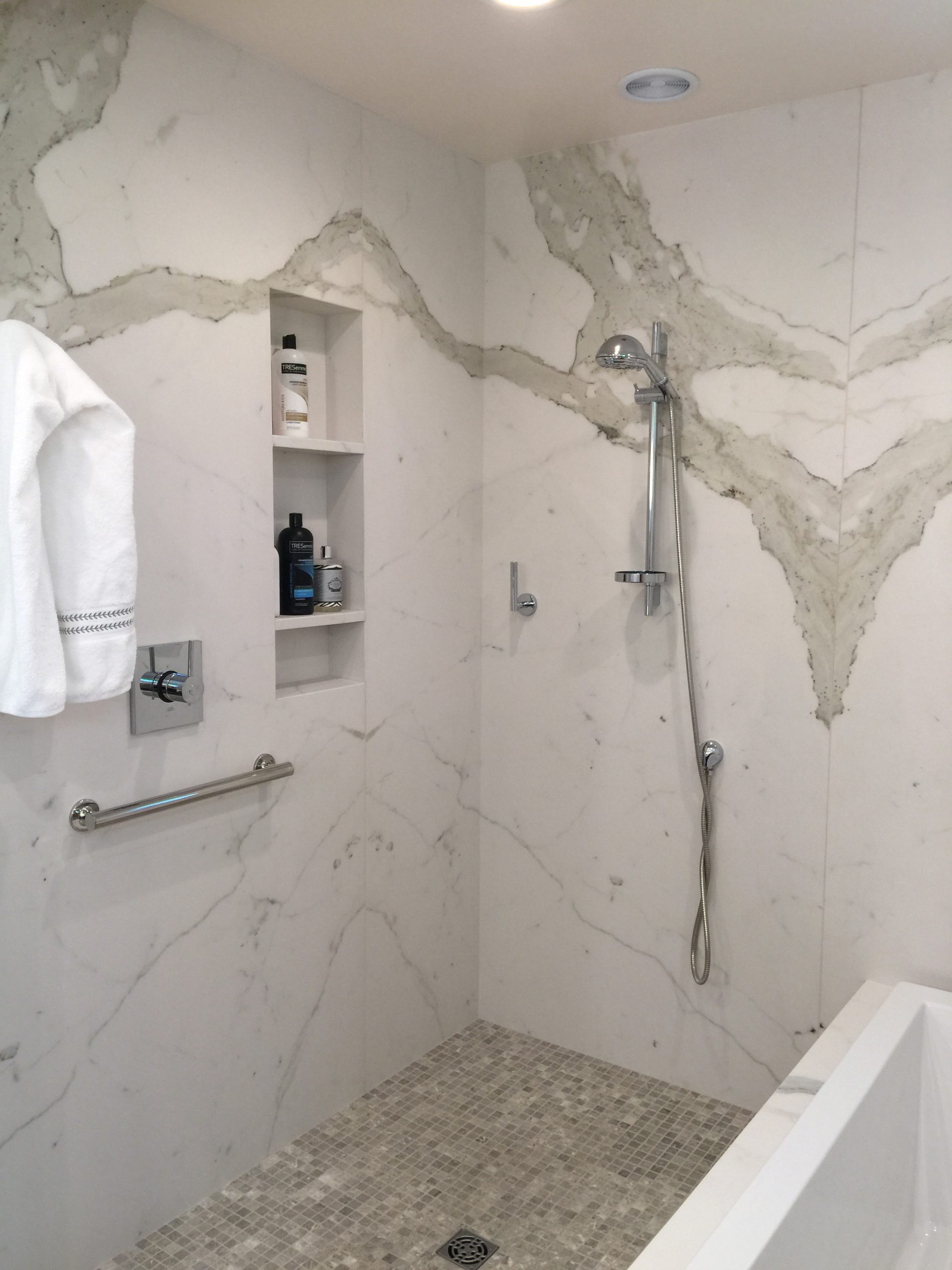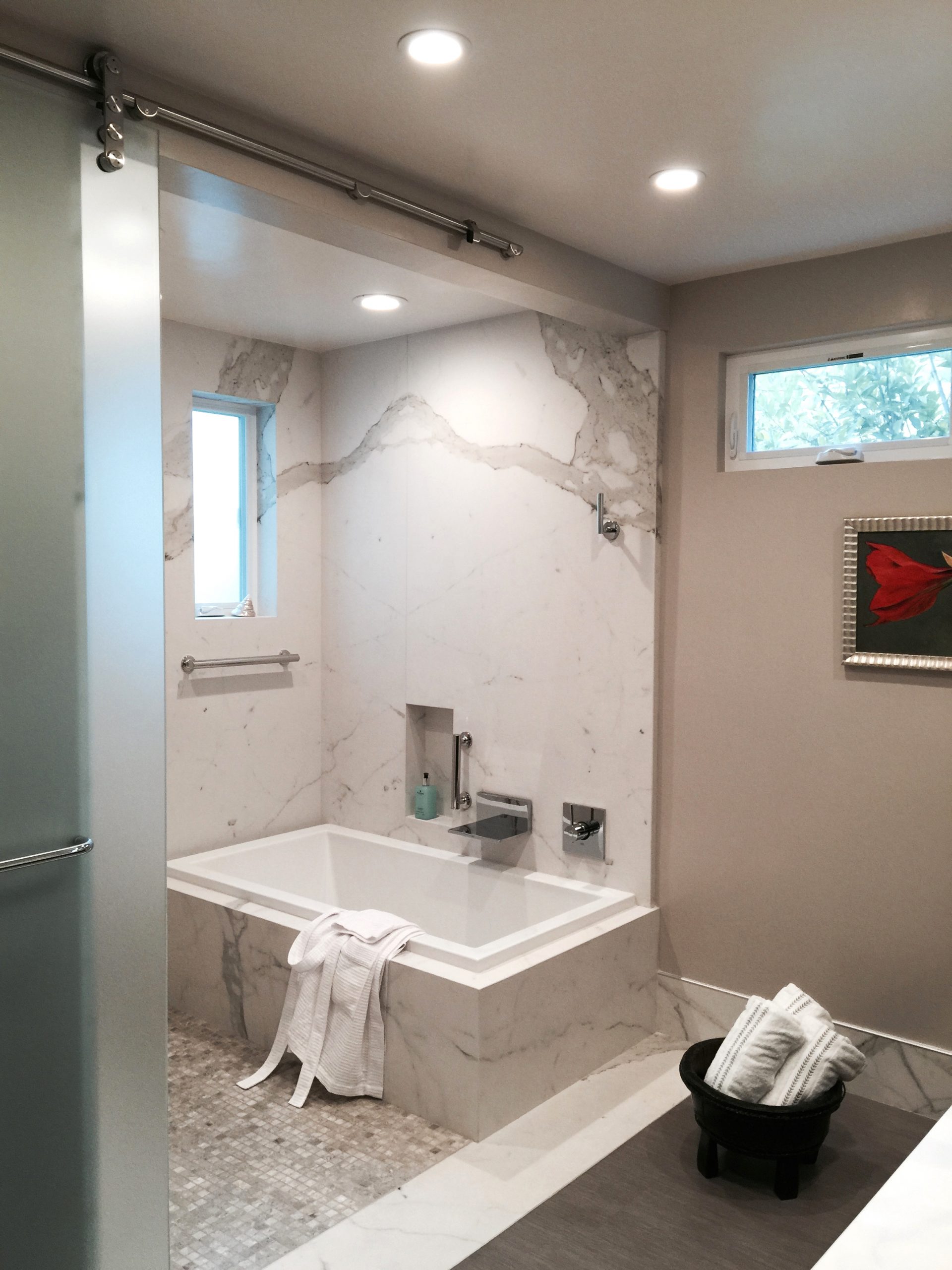 Slab walls and counters of Calacatta by Stonepeak provided an easily cleanable surface with minimal grout joints. The waterfall tub filler and square backed valve control designed by Philippe Staark for Hansgrohe lend an element of chic to the otherwise basic shape of the Mirabelle soaking tub.
Taking advantage of the view of trees and clouds outside are two Milgard awning windows placed high to avoid compromising privacy while providing ventilation. An exterior motor for the shower vent complemented the quiet serenity of this spa bath. An oil painting by Tika pops with lush color mimicking nature.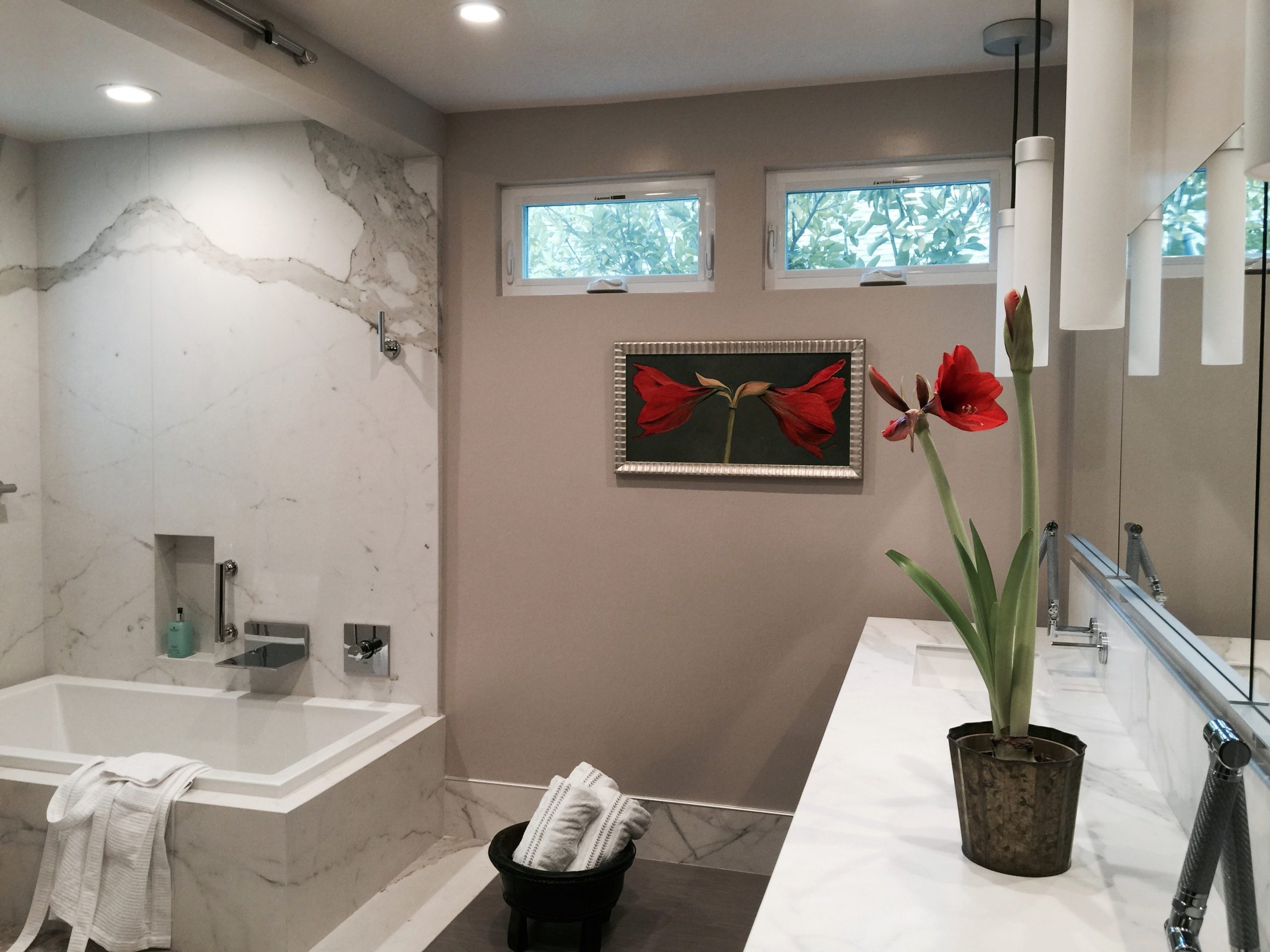 Maximum space was created by eliminating door casings and trim for a sleek modern look and one that accommodated larger openings. Backing was built into the walls at the appropriate height so that anyone could add handrails in the future if needed.
Shallow storage fits neatly above a Toto Washlet toilet, a novel product from build.com (ask for Peter Struble) that blends a toilet and a bidet into one space-saving product.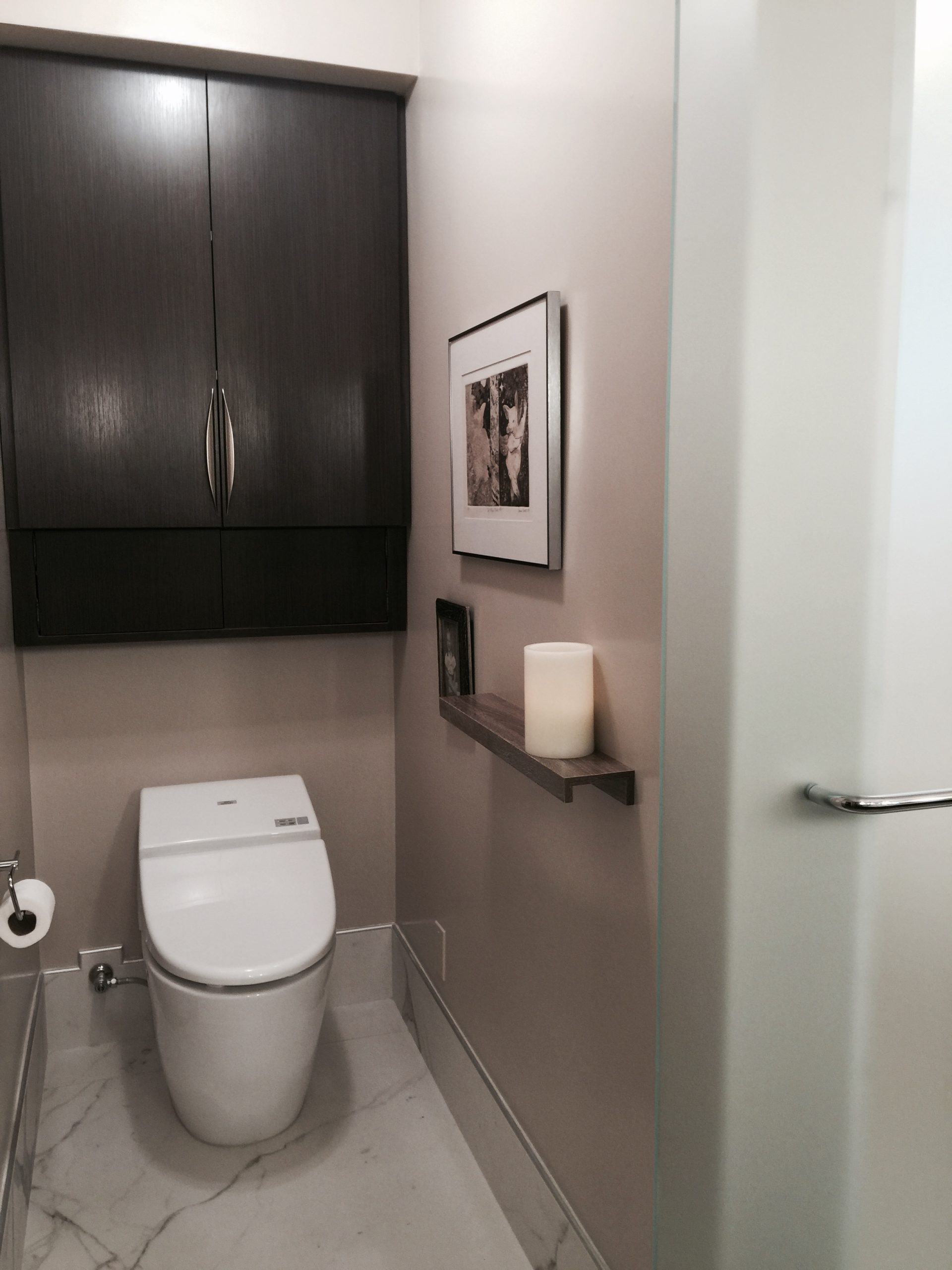 Finishing touches include custom shoe drawers for the adjacent closet, original drawings by Tika and original abstracts by Richard Phipps.