The other day my mom mentioned to me that she wanted to paint her front door (which is currently black) a different color. I love how she is always changing things up around her house and isn't afraid to try something bold. She's fearless! But what else would I expect of someone who has been a successful interior designer for over 35 years? I think colorful front doors are so cheerful and inviting so I'm excited to see what color she ends up selecting. While on the hunt for inspiration to share with her, I found tons of gorgeous colorful front doors and thought I would share them with you all as well. It seems like this is a popular trend right now!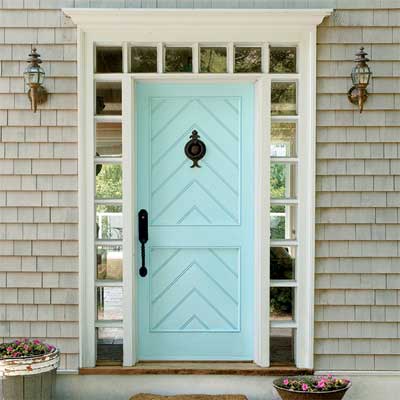 This minty blue door is so beautiful, especially with the backdrop of the crisp white moulding, the windows and the whitewashed siding.
This grey blue is just gorgeous in my opinion. I love how sophisticated it looks with the bronze hardware and cool white color of the house. The black wrought iron railing looks great with the color and the green potted trees flanking the door give a nice touch.
Here's another great blue door and OH MY GOSH that wreath is STUNNING! I am suffering a major case of wreath envy and am going to have to see if I can make one like that for my door. Sorry, I got sidetracked there for a minute…
Anyway, back to doors.
I know one color she is considering is red, and I have to admit red doors are a great classic.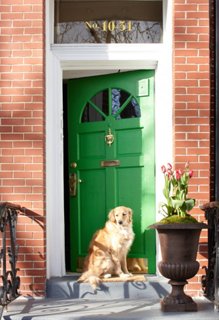 These bright green doors are gorgeous.
Everything about this one is stunning; the door, the architecture, the bike.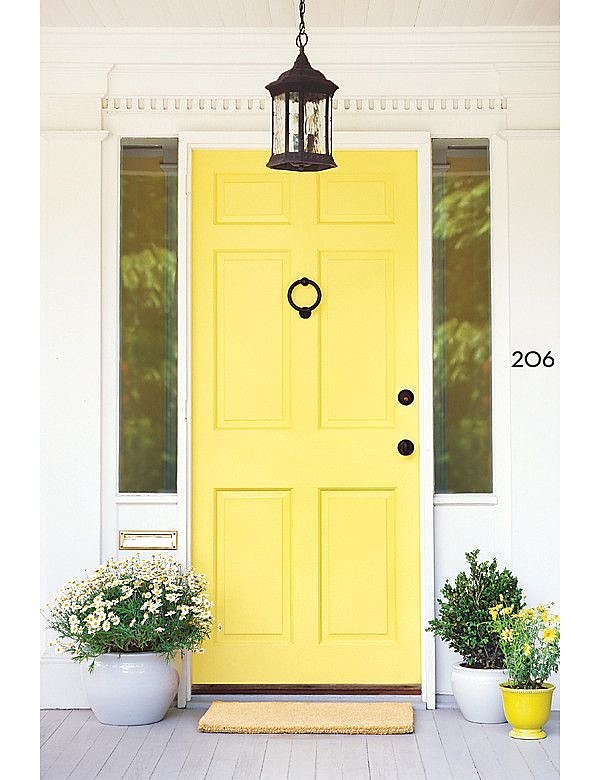 I love the cheerful look of a yellow door.
What do you guys think? Do you like colorful front doors or do you opt for more neutral colors?
For more colorful door inspiration, check out our board on Pinterest: http://www.pinterest.com/designstyleblog/doors/