Tile was on my mind today.  If you're perusing ideas for new construction, a remodel, or just adding to your "future homes ideas" folder, we've got quite the collection of stunning inspirational photos for your backsplash needs.  There are so many great styles and colors to choose from, it might just be a little overwhelming  (you can tell by my abundance of photos).  I just kept finding beautiful option after beautiful option!  Here are some winners…
Miniature stainless steel tiles give an industrial edge to this contemporary kitchen.  They look great against the all-white cabinets and Calcutta marble counter tops.
This is the opposite affect with bamboo-styled marble mosaics paired with stainless steel counter tops.  The unique cut of the mosaics creates a very dramatic and chic look.
This is a great look!  The combination of rustic stacked stone paired with stainless steel appliances and dark wood cabinets is very sharp.  It almost has a contemporary farmhouse feel, especially with the glass milk jug lighting fixtures.
Reclaimed oil-stained tin tiles give this vintage kitchen a bold dose of character while cream flooring and cabinetry help keep it light and fresh.
Tumbled natural stone brings  texture and warmth to a backsplash.  Turn it on a diagonal to add a touch of understated elegance.
If you've ever watched a Candice Olsen design show, then you're familiar with the Penny tile backsplash!  This is one of my favorite tile options and is available in a variety of metallic finishes.  Add a color with your selection of grout.
Now, this jewel glass mosaic is such stunning pattern and it really pops with the addition of the designer white grout.  Gorgeous!
Crisp and clean, this chevron pattern creates a subtle and divine accent wall.  Don't be afraid to take your tile to the ceiling!
Eye-catching color and beautiful style!  Yes please.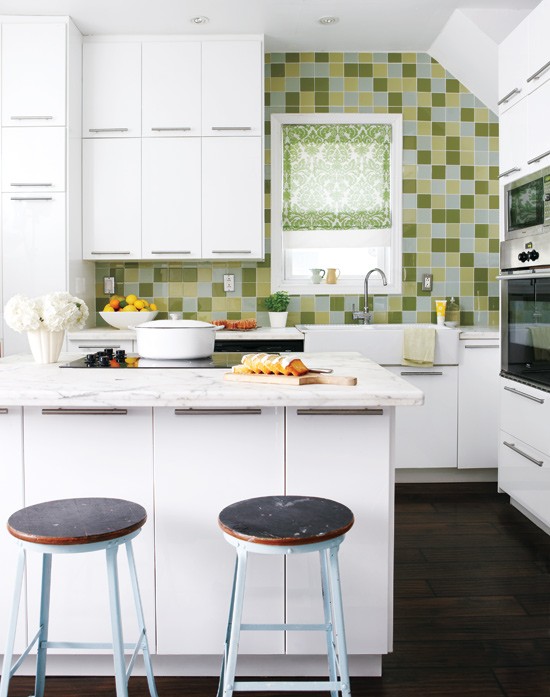 Create your own color palette by mixing different shades of your basic 4×4 tile.
Bring in an ethnic flair with painted Moroccan or Spanish tiles with lots of color and detail to liven up your kitchen or bathroom.
Bold and beautiful glass mosaics.
Subway tiles in any color are always in.  Slate colored tiles meld beautifully here with rich deep-toned wood cabinetry creating a contemporary look with a country vibe.
And then there is the classic beauty of using a single slab.  Simple and lovely.